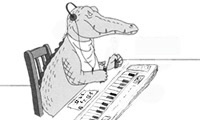 Project Management
Crocodile Productions has over 25 years experience in digital and web-based Project Management, working remotely or in-house
to manage multi-disciplinary teams of developers and designers to deliver high quality titles in budget and on time.
Tamsin is equally at ease with clients and colleagues. A workaholic who is always interested in forging new relationships with companies and people to further what comes naturally, an innate ability to organise.
See Tamsin's LinkedIn page for more...